PROBLEMS WITH YOUR FEET? MAYBE YOU SHOULD SEE A VASCULAR SPECIALIST ALONG WITH YOUR PODIATRIST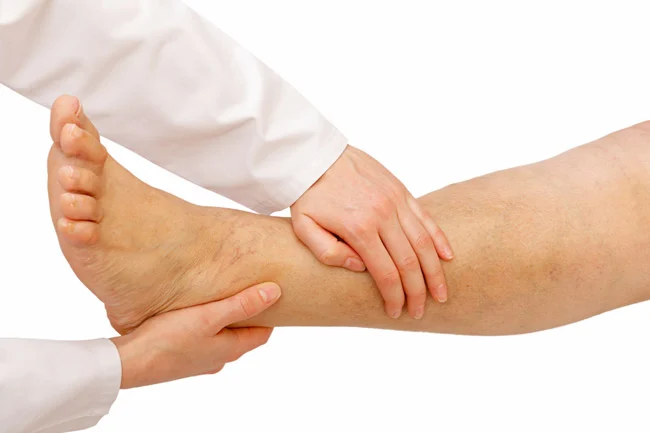 Some 75% of Americans experience foot problems at some point in their lives. Many of them consult a Podiatrist for relief from their foot pain, tingling feet, and wounds on the feet. This is good, because to some extent your feet mirror your general health.
Many serious health conditions – such as diabetes, arthritis, nerve problems, and circulatory disorders such as peripheral arterial disease (PAD) – show their initial symptoms in the feet.
In this article, the Portland PAD specialists at AVC explain the cases in which having your foot problems treated by a Podiatric Physician and a Vascular Specialist may be merited. You see, some of the symptoms you are experiencing may be caused not in the feet themselves, but by narrowing of the arteries pumping blood to your feet. If this is the case, your best bet for effective treatment is to consult a specialist in peripheral arterial disease.
WHICH SYMPTOMS SUGGEST THAT YOUR FOOT PROBLEMS MAY BE CAUSED BY PAD?
Foot pain may be caused by many things, even poorly fitted shoes. But leg cramping and symptoms such as the following may be an indication that your pain is caused by something more serious, vascular disease:
Pain, fatigue, or tiredness in your legs, thighs, and feet that happens when you walk or exercise, but that goes away when you rest.
Burning foot or toe pain at rest that often disturbs your sleep.
Sores or wounds on your legs, feet, and toes that heal slowly or that refuse to heal within a month.
Color changes in the skin of your feet that turns them pale or blue.
Poor nail growth and/or decreased hair growth on legs and toes.
If you experience these symptoms, you should report them to your family doctor or Podiatrist. He or she will probably recommend that you consult a specialist.
WHAT KIND OF DOCTOR TREATS PERIPHERAL ARTERIAL DISEASE?
All of our vascular specialists at AVC are experts at diagnosing peripheral arterial disease, and treating it you have it.
PAD is a grave medical concern because it is a strong sign of atherosclerosis, or hardening of the arteries. One of the hallmark symptoms of this condition is intermittent claudication, the type of pain and tiredness described above.
Having PAD greatly increases your risk of heart disease and vascular disorders. PAD increases your risk of heart attack by 20%-60%, your risk of stroke by 40%, and makes your risk of death from coronary heart disease 2 to 6 times greater.
Left untreated, PAD can also lead to critical limb ischemia and arterial blockages that result in gangrene, and lead to leg or foot amputation. Peripheral arterial disease is now the leading cause of non-trauma-related lower limb amputation.
HOW DO YOU TEST FOR PERIPHERAL ARTERIAL DISEASE?
At AVC, we start with a review of your medical history to check for diabetes, smoking, previous cardiovascular disease, and other risk factors. We ask about your symptoms, your diet, exercise habits, and any medications you are taking.
Naturally, we perform a physical examination, and will check whether you have high blood pressure, diabetes, or high cholesterol levels. We also measure the pulse in your legs and feet to determine if enough blood is flowing to them.
If warranted, we may perform a painless, noninvasive test to measure the ankle-brachial index (ABI). This test compares blood pressure readings in your ankles with readings in your arms. If the pressure in the lower part of your leg is lower than the pressure in your arm, you may have PAD. To detect the exact location of any blockages, we may use Doppler ultrasound or perform an angiogram.
The good news in all of this is that, if detected early, PAD is easily treatable. But relief starts with an accurate diagnosis, and getting a proper treatment plan if you have it. So give Dr. Costantino a call at (503) 683-7730 or schedule an initial consultation online.