THE 5 MOST COMMON QUESTIONS ABOUT UTERINE FIBROIDS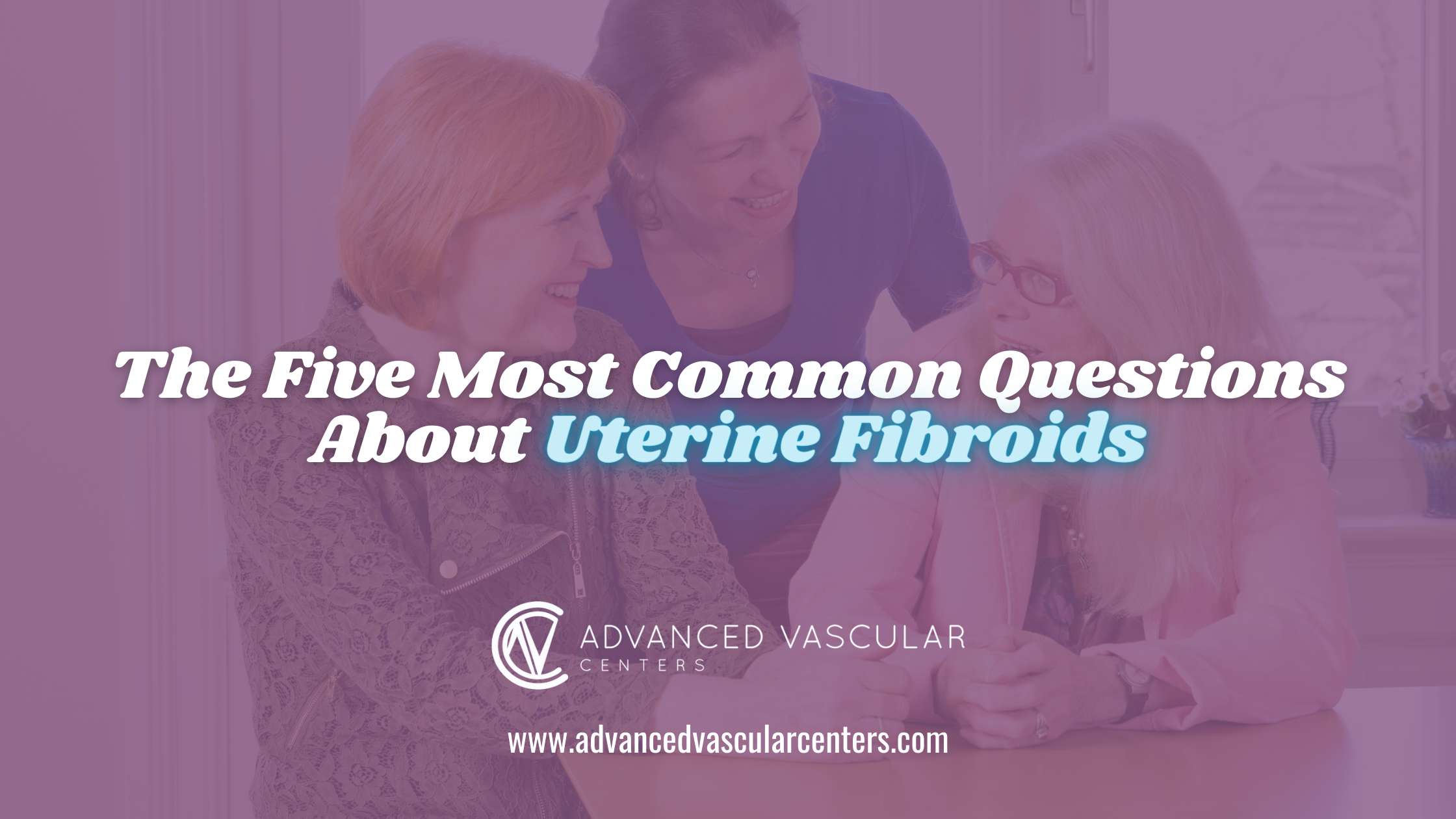 WHO GETS FIBROIDS?  
Uterine fibroids (leiomyomas) are the most common pelvic tumor in women and 40% of all women by the time they turn 40 have uterine fibroids. One Washington DC health plan study showed that approximately 80% of African American women in their late 40s have fibroids.
Based on multiple studies, fibroids are typically 2-3 times more likely to occur in African American women. When fibroids are asymptomatic, they can be followed by your gynecologist with ultrasounds. When they do become symptomatic, they usually cause abnormal menstrual bleeding and/or pelvic pain/pressure. Uterine fibroids may also have reproductive effects (eg, infertility, adverse pregnancy outcomes). Symptomatic fibroids should be treated.
Fibroids increase with age and are seen during the reproductive years. After menopause, fibroids typically shrink and symptoms improve. Fibroids have not been seen in girls before puberty, but have been rarely noted in adolescents.
WHY DO PEOPLE GET FIBROIDS?
Race — The reason for the increased incidence of fibroids in African American women is unknown. Differences in genes, diet, lifestyle, stress, and environmental exposures are being considered as contributing factors. African American women develop symptoms at an earlier age and the rate of hysterectomy for fibroids among African American women is twice that of White women.
Contraception Use & Hormones — There is no clear evidence that contraception use increases the risk of developing fibroids. Although fibroids grow during the reproductive years and fibroid symptoms are sometimes controlled with hormones, there is no evidence that hormone excess causes fibroids to occur.
Early age of menstruation — Starting menstruation at an early age is associated with an increased risk of developing fibroids.
Number of pregnancies — Having multiple pregnancies decreases the chance of fibroid formation.
Obesity — Most studies show that fibroids are associated with being overweight or obese.
Diet & Alcohol — Significant consumption of beef and other red meats and consumption of alcohol, especially beer, is associated with an increased risk of fibroids. Consumption of green vegetables and fruit, especially citrus fruit, is associated with a decreased risk.
Other factors — Vitamin D deficiency and high blood pressure are linked to increased fibroid risk.
IF I HAVE FIBROIDS  DO I HAVE TO HAVE SURGERY?
No. There are many treatment options for fibroids and many women are unaware of a minimally invasive treatment option — uterine fibroid embolization, or UFE. Even though fibroids are extremely common, patients often don't know all of their options and we, as medical providers, are not doing enough to communicate options to patients. A recently commissioned poll by the Society of Interventional Radiology uncovered communication gaps about fibroids. They found:
1 in 5 women (20%) believe that the only treatment is complete surgical removal of the uterus (hysterectomy)
> 2 in 5 women (44%) who have been diagnosed with uterine fibroids have never heard of UFE
3 in 4 women (73%) who have heard of UFE did not first learn of it from their OB-GYN, the frontline provider of fibroid treatment
Although hysterectomy may be the desired option for some women, it may not be for other women who want to preserve their uterus. Myomectomy (surgical excision of fibroids) and UFE are proven options to treat fibroids without removing the uterus. Some women who are unaware of all of their options may decide to live with their symptoms instead of pursuing treatment because they falsely believe that surgery is their only choice.
Uterine artery embolization (UAE) is a non-surgical procedure performed through a pinhole in the wrist or groin where real-time imaging is used to guide a small catheter to the uterine arteries and tiny medical beads are released to block the blood flow to the fibroids causing them to shrink. During the same-day outpatient procedure, the uterus is not removed and unlike traditional surgeries, you won't have a large incision or stitches. Symptoms generally improve over the next weeks to months. Compared to surgery, there is reduced pain, faster recovery, and lower major complications.
Living with symptomatic fibroids should not be an option. Women with fibroids often face pelvic pain, diminished sex life, and declining energy levels. Some women with extensive bleeding can also develop anemia (low blood counts). While some women may not experience any symptoms, for others, the physical effects and bleeding that can result from the condition can be debilitating and should be treated.
HOW DO I FIND OUT IF I HAVE UTERINE FIBROIDS?
If you have any of the following symptoms, you may be suffering from symptomatic fibroids:
Heavy Menstrual Bleeding +/- anemia (low blood count)
Prolonged Menstrual Cycle
Enlarged Uterus ("Bulk Symptoms")

Pelvic Pain & Pressure
Urinary Symptoms and Leakage
Constipation
Painful Sex
Back/Leg Pain

Problems with Pregnancy
Feel free to contact us to set up a consultation to evaluate whether fibroids may be causing your symptoms and to discuss available treatment options.
HOW CAN I LEARN MORE ABOUT UTERINE FIBROIDS?
Dr. Mary Costantino is the Medical Director of AVC Portland, as well as a national leader in Uterine Fibroid Embolizations. She has written a detailed e-book that discusses the most important things to understand about uterine fibroids. You can download this e-book here on our website. Give Dr. Costantino a call at (503) 683-7730 or schedule an initial consultation online.